Hello again wrestling fans and welcome once again to the Wrestling Roundtable, the only wrestling segment that is sure to piss so many people off. I have banned Frosh from the wrestling roundtable because of his idiotic comments about Hulk Hogan winning the WWE Championship last week. Frosh thinks he is right on many things, but his comments have consequences, and he shall be destroyed… anyway… This week we are going back to the women's division and will discuss a comment made by Becky Lynch. Also, is Ken Shamrock worthy of the Hall of Fame? We discuss this an much much more!
---
1. AJ Styles
Despite a six man tag team loss on Smackdown, AJ Styles still is at the top of the list. Is United States gold on par for the Phenomenal one?
1.a Hulk Hogan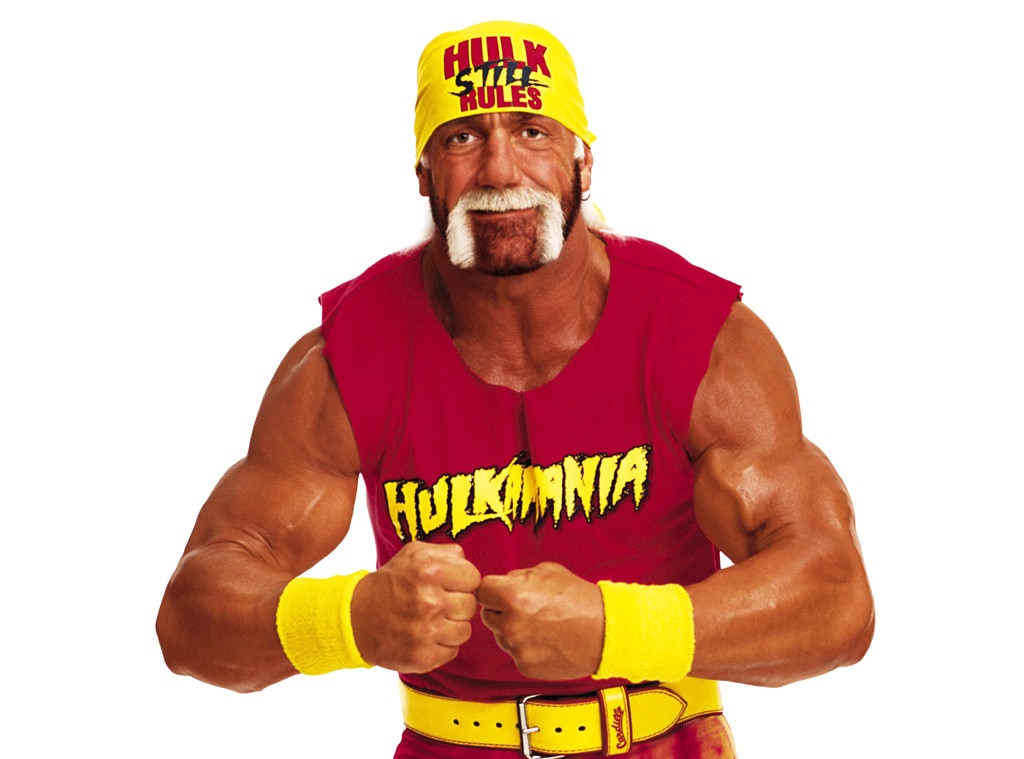 1.a Hulk Hogan
With the talk of Hogan coming back, and even winning the belt, he has skyrocketed up the rankings.  Also, this is totally Steve putting this up here, and not someone who may or may not have hacked the site.
P.S.  This is Steve.
2. Alexa Bliss
The Raw womens champion is on quite the hot streak as of late. Can anyone stop her?
3. Randy Orton
The WWE Champion may have his hands full against Jinder Mahal, with all the competition on Smackdown right now, how long can the Viper hold on to the championship?
4. Bray Wyatt
Bray Wyatt seems to be everywhere lately, but more importantly, he is a thorn in the side of Finn Balor.
5. Finn Balor
Balor has his sights set on the Intercontinental Championship, but can he overcome any interference from Bray Wyatt to capture the gold?
---
In 1998, Kane became the first and since then only masked WWE World Heavyweight Champion, when he defeated Stone Cold Steve Austin at the King of the Ring in a first blood match. Austin would go on to regain the championship the next night on Raw.
---
Becky Lynch stated recently that she wants to become a heel in the near future. Do you see her as a heel, and how would you book it if you were the WWE writers.
Steve: Honestly, I like Becky as a face. She is great with the fans, and gets over everytime she comes out. However, if I have to put her as a heel, the only real way to do this is to have her befriend Charlotte again, and then turn on her just like Charlotte did to her. Sort of a revenge factor, and then have her join the welcoming committee.
Mr. Frosh-Merica: Hello Brother!  Since Frosh has been banned, I am here to take his place.  And I have only one question for you….WATCHA GONNA DO, BROTHER, when this 24 point font runs wild on YOU!?  Back to Becky Lynch.  She is talented enough to pull off whatever character she likes.  Turning heel would be a way to freshen her up, but if you do this, she gets rid of the steam-punk gimmick. Maybe like a corporate type thing, join Stephanie against Shane?  She needs to do something to set her apart.  Joining the welcoming committee would be a mistake.
Chad: I mean if Charlotte can be a half face right now I could see Becky turning on her partners at Backlash and go after Charlotte or Naomi for the women's belt on SD Live.
Tyler: She had a decent heel run in NXT ( with Sasha Banks, surprisingly enough) where she was "Better Than Everybody", so that kind of arrogant heel she's shown she can pull off.
Manny: I think heel wouldn't be a bad look for her , they need more than  Jackie right now.  Becky would be an interesting wild card.
---
Adam Cole of Ring of Honor's contract has expired from the company. Should Adam Cole sign with the WWE, and what sort of impact could he have in the WWE?
Steve: Absolutely he should, and he could be a huge factor not only in NXT, which is where he will likely start, but also on the main roster. Could you imagine a Adam Cole vs Bobby Roode? Or an Adam Cole vs Finn Balor, Seth Rollins? I could go on and on. Cole could be the next big star in the WWE if booked right.
Mr. Frosh-Merica: Why wouldn't he?  Does he hate money?  He will make bank in WWE. Whether he is booked right or not, is irrelevant to this decision.  He will get paid.  He sure has potential to do great things, or he could fizzle out like Drew McIntyre.  If that happens, he goes back to RoH, just with a lot more money.
Chad: I think Adam Cole is young enough and a tremendous talent in the ring to make a huge impact on WWE especially if they ever want to run with a version of the Bullet Club in the future as he as a decorated member
Tyler: While I would love to see him in NXT, I'm concerned that he would be lost in the shuffle once he moved up to the main roster.
Manny: Don't know who that is hope he's good!
---
WWE recently stated that they have no plans to induct Ken Shamrock into the Hall of Fame any time soon. The Shamrock camp has stated that he absolutely deserves to be there. So simple question: Is Ken Shamrock Hall of Fame worthy?
Steve: Here we go again, if Koko can get in, and Snoop Dogg gets in, then why not? He is a former Intercontinental Champion, Tag Team champion, he was one of the first to cross over from UFC to the WWE, and brought over a new genre of fans. So yeah, I think Shamrock should be in the Hall of Fame.
Mr. Frosh-Merica: I can see him getting in, but there are other more deserving folks to get in first, like Mike Rotunda, Doink the Clown and Duke the Dumpster Droese.  But in all seriousness, if you have a really light year, and need someone to fill a slot, I can see it happening, but get I.R.S. in there first.
Chad: I would say no I don't think he was in the company long enough to make enough of impact. Yes, he won belts in WWE but at this point I would say it wan't enough to be in the Hall of Fame
Tyler: Yes.  He was the first one to cross over from MMA to wrestling and provide WWE with an air of legitimacy.
Manny: What is the real criteria to get into the wresting king hall of fame?!?!? I'm sure he qualifies lol
---
Shinsuke Nakamura is going to make his main roster in ring debut at Backlash against Dolph Ziggler. Is Nakamura going to develop into the new face of Smackdown, or does this still belong to AJ Styles?
Steve: Nakamura is going to be great, but Smackdown belongs to AJ Styles for the foreseeable future. AJ is the star of Smackdown, and I don't think Nakamura has enough to be the top build on Smackdown, I mean when he comes down to the ring it is almost like he is having a seizure. He cannot speak, but he has a wide variety of moves that make up for that. He is a top tier star, but not the top guy.
Mr. Frosh-Merica: At the risk of sounding insensitive, Nakamura will never become the face of the company, or the show, until he improves upon his English, and/or stops talking with the mouthpiece.  He is barely understandable. He will put on, ungodly amazing matches, and will be totally over with the crowd on that aspect, but you HAVE to be able to perform on the mic BROTHER!
Chad: For now it is still AJ Styles but I could see him and AJ face off down the line possibly at WM 34 and maybe have Owens and Nakamura for the Summerslam season.
Tyler: If they turn AJ heel again, then Nakaumura would definitely be the main face on the show
Manny: AJ will be the face the runs the face for a while, more interested in spinning nakamura. How will the writers build him up!
---
Braun Strowman is having to have surgery on his elbow, and is expected to miss 4 to 8 weeks. What does this do for his potential main event push, as injuries before have derailed other pushes from other superstars?
Steve: This is not going to hurt Strowman at all. You can build this up to him not wrestling because there is no competition for him, plus where the hell has Brock Lesnar been? Lesnar doesnt appear at times for four to weeks, and he is your damn Universal Champion. In some cases, where your champion actually appears on television, and if there was a scheduled match up between the two in the next couple weeks, then maybe I could see him being derailed. But because Lesnar is no where to be found, Strowman is going to be fine.
Mr. Frosh-Merica: This will only hurt Strowman long term, if it becomes constant.  One injury won't sideline the person Vince wants to build permenantly, but multiple and that can do some damage to his career.  Plus, that is one less person for the WWE creative team to bury underneath the all powerful, Roman Reins for the next little bit.
Chad: With Brock having the belt I don't think its as immediate of an impact on the title picture and the main event as in past situations. 7-8 weeks puts you at "Great Balls of Fire" so he could be in a match with Brock there or attack him after the fact.
Tyler: Hopefully since it's only projected to be a few weeks, the hype train will still be going when he returns.  But we know how fickle Vince can be, so fingers crossed.
Manny: Roman Reigns beats Lesnar who then fights Braun
Tiny URL for this post:

Comments
comments