2014 Season Preview
Tampa Bay Buccaneers

Season Review:
How to put this in a good way? The Bucs showed a lot of (somewhat) promise in 2013-14. The only problem: the roster was BLOWN UP in March 2014 when new coach Lovie Smith and GM Jason Licht stepped in. In 2013 Tampa saw a team that was going to get (gradually) better. Heading into September 2013, all eyes were on a few key guys; Mike Glennon, Josh Freeman, Doug Martin, Lavonte David, and Darrelle Revis. The Greg Schiano expirement came to a fiery and abrupt end as the world found out that not all of Belichick's boys are suited for the spotlight. Schiano (and leftover GM Mark Dominik) were shown the door, and Tampa fans would just as soon forget one of the most unorganized and pitiful years in franchise history. For all the wrong reasons, the Bucs could stand to get better. A lot better.
Offense:
And so the writing was on the wall for Tampa to hire Lovie Smith as their coach. The man was previously linebackers coach under the Dungy regime, where Dungy essentially gave the guy his leap from college to the NFL and learned under the greatest defensive coordinator the NFL has ever seen in Monte Kiffin. But what was the biggest problem for Lovie in Chicago? His offense was always spotty and (for the most part), no good. In the eight years Lovie was in Chicago, his squads only reached the top 20 in total offense once with the year Chicago went to the Super Bowl (2006). With that said, Lovie knew he had to reach out and make it work on the offensive side of the ball this time. So what did Coach do? He tapped Jeff Tedford, former Cal head coach and a guy known as a quarterback groomer. Certain players (Aaron Rodgers and Trent Dilfer) have been mentored under Tedford and have him to thank for their upstart careers. The guy knows quarterbacks.
Coincidently, Tampa also has a future franchise-type quarterback with Mike Glennon in the chamber. So what did Tampa really do this offseason? They went out and bought Glennon time by bringing in career-backup Josh McCown.  After all the under the radar success McCown had last year (1800 yards, 13 TD, 1 INT over 8 games) in place of Jay Cutler, it will be interesting to see if McCown can pick up where he left off in 2013-14. Known for his inconsistent and somewhat week-to-week play, McCown has been given shots at greatness (even mediocrity), and hasn't really lived up to expectations. However, McCown can redeem his history these next few years in Tampa. He's the starter (for now), but he is really just meant to fill the cracks while Glennon develops. Essentially, he can be Brett Favre while Glennon is Aaron Rodgers.
When free agency came, Tampa basically scrapped the entire offensive line and hit the drawing board. Hometown heroes Donald Penn, David Joseph, Jeremy Zuttah, and Ted Larsen were all sent packing with Carl Nicks dreadfully close to being next. A bold move considering the previous (besides Nicks) were all drafted by TB and had all been there over five years. So Tampa then went out and got tackle Anthony Collins, center Evan Dietrich-Smith, and guard Oniel Cousins to replace the old guys. So what can we make of the line changes? The old line was often seen around the league as ineffective and weak, as the guys previously mentioned were injured most of the time. Between Penn, Larsen, Zuttah, and Joseph, they had only played less than fifteen games together total in the last three years. The line they got is younger and more durable (so far). If anything, that right there is an upgrade over the previous faces.
Tampa then continued to attack free agency by snatching up Brandon Meyers, an up and coming tight end who fits nicely as a blocker and receiver. With the return of Doug Martin in the backfield, a strong offensive line, one of the deadliest receiving cores in the entire NFL, and a string of promising quarterbacks this Tampa Bay offense should have the rest of the league shaking in their boots. Tampa also picked up wideout Mike Evans tight end/receiver Austin Saferian-Jenkins in the draft, which will provide them with two immediate impact players. All in all, be very afraid of this Tampa offense in 2014-15. The lethal depth, youth, and experience on this squad should make for one of the most interesting stories of the year.
Defense: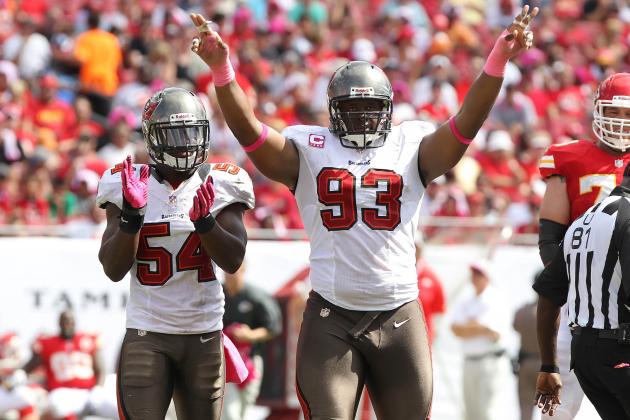 Make no mistake, Lovie Smith is one of the great defensive minds in the NFL right now. That's why fans were jumping for joy when he tapped Leslie Frazier (another good defensive guru) to run the defense in 2014. Together, these two coaches brought the Tampa 2 back to its rightful home and with it comes a new set of growing pains. Again, March came around and Tampa hit the defensive side of the ball just as hard as they did the offense. The big question for everyone, though: why did Tampa let Darrelle Revis go? It's really simple, actually. Revis didn't want to take less than 16 million in order to stay with the team. So what did Jason Licht say? Adios, Darrelle. In turn, Tampa was able to sign corners Alterraun Verner, Mike Jenkins, and defensive end Michael Johnson. Now ask yourself, is any one player better than three others? Tampa did not squander the money they were given off the Revis deal AT ALL. Along with the corner situation figured out (for now), Tampa picked up tackle Clinton McDonald, fresh off the Super Bowl-winning Seattle team that prided themselves on their fearless defense and scary front four. In signing Michael Johnson from Cincy and McDonald from Seattle, they will join Pro-Bowl tackle Gerald McCoy who is coming a career (and injury-free) year. This will also put the pressure on D'Quan Bowers and Adrian Clayborn to step up or shut up, as both disappointments are in contract years.
The only gap: the linebacking core is a working progress. The secret is definitely out on Lavonte David, but the rest of the crew is up in the air at this point. Tampa returns hitter Jonathan Casillas, a spotty and somewhat consistent tackler who saw decent minutes last season. Tampa was impressed with him enough to offer him more time as a Buc this offseason, which could provide depth at outside linebacker. In the same week, Tampa signed up-and-comer Dane Fletcher away from New England, which should help things a little bit more as he can play both middle and outside. The big question on everyone's minds will be the play of Mason Foster at middle linebacker. Foster has had moments of solid play, while still being a far, far, far…far cry from Derrick Brooks or even Barrett Ruud (to which he inherited the role from). Other than that, the linebacking core looks pretty bare, and will probably be the achilles' heel of the team heading into September. That is, unless someone can step up.
Should the linebackers get by and not raise too much of an issue, this Buc defense should be a noticeable and obvious improvement from the year(s) prior, as previously snubbed Dashon Goldson looks to cut down on the helmet-to-helmets and prove his worthiness. On top of that, third year safety Mark Barron should look to show the NFL why he could be the best strong safety in the league. Overall Tampa's return of the T-2 defense could be the exact thing they need to get this team back to defensive superiority. As a coordinator and coach, Lovie Smith only has had a top ten defense six of the twelve years he's ran the defense. With the right players, right system, and right-hand man this defense could prove to be an offensive coordinator's nightmare.
Special Teams:
I'll put it like this: Tampa has never really had a solid special teams core and I might inquire to say this will be the same attitude heading in. Then again, nearly everything about this team is 180-ed from last year so why not, right? The return of Conner Barth and Michael Koenen will prove to be a steady combo, with the return team not exactly in place. Will Bobby Rainey be taking kicks? How about rookie running back Charles Sims? Will Olympic sprinter Jeff Demps make an impact this year? My guess: No to all of them. Look for the special teams gang to be marginal like any other year. Nothing more, nothing less.
Draft:
Check out our draft review here!
Outlook:
Overall this Tampa Squad has the makings to be deadly. Very, very deadly. If the team can get the defense going in the right direction, with minimal hiccups transitioning back to the Tampa 2, this team could be a perennial title contender. The offense is built to last and built to win titles, plain and simple. Glennon has the time to develop and look forward to an impressive line of young wide receivers while McCown looks for his last shot at glory. Doug Martin will return to spectacular form, and look to share the light with Bobby Rainey and Charlie Sims when needed. Tedford has already said Martin should expect 20 carries a game, but I simply don't see it. History shows that backs who run that much end up losing in the end (cough Cadillac Williams). With the offensive firepower Tampa has in place, there is no reason why they can't put up 30+ points a game and finish the season in the top five in total offense.
As the offense will strive to be a top three threat, the defense should look to do the same. The Tampa 2 is known for it's simplicity and ease of execution, which is always good for players going through transition. With that said, the T2 has never really been known for its explosiveness but more its consistency. Verner, Jenkins, Goldson, and Barron will fit nicely in this system that revolves around a functioning and mature secondary that works best when players stay home. As the secondary should look to take care of business, the front four has to be ready to work. Gerald McCoy is a talent that is finally just starting to shine, and should be excited at the talent Licht and Smith have lined up around him. Like the offense, this defense is just too good NOT to finish top ten. The only problem is the linebacking core. Even then, Lavonte is going to follow the ball and the other linebackers will look to fill the cracks and stay out of his way. Mason Foster has got to step up if this team wants to be title-worthy, though. The middle linebacker is (obviously) the most coveted spot on the defense. Tampa needs this final piece if they want to really make a dent in history. Like everything else, time will tell how well Tampa does this year.
Crystal Ball: 11-5, first in the NFC South, with a second round playoff exit. 
Second Look:
David: I have a lot of questions on this team, I'm a Glannon guy, so I'll skip that. I want to look at that O-Line. Other than Center, the only real upgrade is at Center, and Dietrich-Smith comes over from the Packers, just since they got younger, doesn't mean they got better.
On the other side of the ball, I have issues, there is some talent on the defensive line- all first day picks, but only Gerald McCoy would be guaranteed a job tomorrow in the NFL if he was cut today. Gholston might not last a week unemployed, but needs to be consistent. The Linebackers are much better, with Lavonte David coming off a strong year. Special Teams might be an issue this year as well.
My biggest issue is the schedule. I did talk with Zach, and he thinks they go 4-2 in the division, splitting with the Saints and Panthers- I simply don't see that O-Line holding up against that rush. Add that to the Rams, Ravens, Vikings, Bears, Bengals and Packers is going to be a tough row to go. I'm looking at 1-5 in the division, and 6 wins in total. They have to improve that offensive line and do it before the Falcons recover that front seven.
I do like the changes to defense, Lovie Smith is very good at getting the most out of the talent he has on that side of the ball, the issue is, he has always had problems moving the ball offensively. Jeff Tedford is going to have his hands full there.
Tiny URL for this post:

Comments
comments