Before I begin let me be clear: it is neither my intention to argue for or against Mr. Sterling. I cannot stress enough that I wish my own, personal feelings remain neutral on the situation (as I will explain why later). The purpose of said article is to indulge the public of a few things that may have been overlooked amongst the discussion of Donald Sterling and his private comments on an issue. Now that you have been warned, let the fun begin.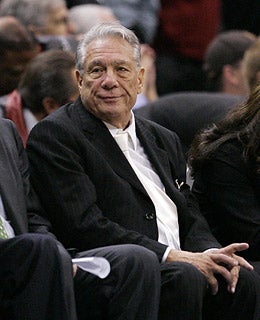 By now everyone has heard the comments that Mr. Sterling has made. If you were not privy to said comments, or simply didn't have enough of an attention span (like me the first three attempts) to listen to all nine some odd minutes, then let me humor you on the summary of the call:
In short, Sterling was involved with a "back and forth" with his girlfriend V. Stiviano. on a number of occurrences where she was seen/posted pictures out and about with mixed races, to include African-Americans. Amongst the conversation, Sterling stated his disapproval for the situations and people Stiviano was associating herself with. It was also confirmed of Sterling's apathy towards his girlfriend and known infidelity. Amidst the conversation it was noted that Sterling "felt more comfortable" around his own race. He also clarifies that he was not "ashamed" of his girlfriend's own mixed ethnicity, but rather has his own thoughts and mindsets on being associated with other races on "his level". Again, just a summary of the main events that occurred. For the entire conversation click here .
Before the lynch-mob starts kicking in doors trying to find my information, let's remind ourselves who initially broke the "controversial" story, TMZ. For those who live under a rock, TMZ is the epitome of worthlessness in this country and I wish nothing but the worst for their corporation. Let's be clear about my thoughts on paparazzi and reporting true or (mostly untrue) stories on anyone, to include celebrities: it's (and they are) pathetic. Nothing less, and certainly nothing more.
    To kick this legal party off (for quick reference), Defamation (of character) is the communication of a false statement that harms the reputation of an individual, business, product, group, government, religion, or nation, with the bolded categories called into question. So with this report, TMZ and all conspirators involved have already broken the law under four separate categories. Four separate categories due to the expected loss Sterling has (and will) endure with investment of the Los Angeles Clippers, and any other businesses Sterling possesses. Why did they break the law? Under California Penal Code Section 653w (a) (1) "a person is guilty of failure to disclose the origin of a recording or audiovisual work if, for commercial advantage or private financial gain, he or she knowingly advertises or offers for sale or resale, or sells or resells, or causes the rental, sale, or resale of, or rents, or manufactures, or possesses for these purposes, any recording or audiovisual work, the outside cover, box, jacket, or label of which does not clearly and conspicuously disclose the actual true name and address of the manufacturer thereof and the name of the actual author, artist, performer, producer, programmer, or group thereon." So if Stiviano (or anyone else) did, in fact, "leak" information to TMZ without Sterling's permission/consent, both the sending and accepting parties are held liable for defamation of character.
    Secondly, let's analyze the phone quality of this conversation: this girl didn't just leave her cell phone out or "accidentally" left something recording. This was quality, HD stuff. A lot on-air analysts are claiming this information was captured with "professional audio equipment". What question does that beg? Whether Sterling was ambushed or set up. Looking at the bigger picture (as previously discussed), California state law prohibits such acts. Also, for those who are not criminal savvy, extortion is a criminal offense of obtaining money, property, or services from a person, entity, or institution, through coercion. So if Sterling knew about the incident and was offered money or some other type of exchange for the audio, here is another possible charge to keep in mind.
Next on our list, Sterling has worked with the National Association for the Advancement of Colored People (NAACP) for nearly 20 years, and was in line to receive their achievement award before this incident came about. Let's take another look at that: the Sterling and the NAACP were old buddies. If there is no correlation on how extremely ironic this all is now, then the rest of the article might be that of a waste for some.
    On another plateau, what can the NBA really do to Sterling? They cannot force or respond someone to hand over their franchise. It is his investment and Sterling cannot be coerced into selling the team. Should Silver attempt to do so (no matter the public view), I would definitely consult my lawyer if I were Sterling. Furthermore it is not the job of the NBA to decide who "should and should not own" an NBA team. Frankly, it is none of Silver's business. Should Silver decide it is, I feel he is standing on shaky ground going after a prestigious owner like Sterling over a controversial and (lack of) full report. Overall, this is definitely a ballsy and complicated matter for a first-year commissioner. The posture Silver sets here should dictate how his time on the throne should go.
So now that the legal mumbo jumbo is over, let's talk about the importance of this story. This matter is more important than more know, or even care to think about. This controversy is a warning label to all: you cannot even think your own thoughts in your own house. Regardless of what was said, Sterling did not come out and announce his ideas for all to hear, but rather said these things in confidence of his own girlfriend, and behind closed doors. In the privacy of his own dwelling, people. Furthermore, since when is it the job of the American people or some two-bit gossip gag to declare what "can and cannot be said" in the privacy of someone's home? Let me summarize an answer to an otherwise rhetorical question; it's not. You can be offended all you please, but to declare someone should not say something is not up to you, me, or anyone else. Americans need to start keeping this in mind. This matter has clearly gotten WAY out of hand.
The point here is not what was said in Sterling's defense; it's the context upon which the information came about and how the American people came to find this information. Slanted and biased reporting like the product TMZ produces is not okay. Could there be more to the conversation? Was the conversation longer than nine minutes and however many seconds? We don't know. The conversation's context is a valid disregard for one's right to privacy, which is in direct correlation with the Fourth Amendment.
All mature, grown individuals understand the importance of free speech. It isn't ever free. One can say whatever their will possesses them to. One, also, must always pay for said comments and statements. This is a lesson we are all taught in middle-school government class. Should Sterling pay for his comments? No, and this is where people are wrong on the deal. It is NOT, I REPEAT, NOT, up to the American people to decide what is "okay" to say and what is not. Especially in the privacy of one's own establishment. Unspoken and "made up" rules like Political Correctness on a matter of an individual's "violation" of free-speech is one (of more than a few) reasons our ancestors left British rule in the first place. Colonial's didn't even have TMZ, but relied on the same faulty reporting. For those who forgot the history book, one could be hung for even the speculation that someone spoke ill of the Queen. The only difference between now and then is people were hung for "acts of treason", whereas folks like Sterling get a black eye in some crummy tabloid.
So what can we really take away from my rant? This wasn't a comment on Sterling's remarks because, as I said before, "it is NOT up to the American people to decide what is okay to say and what is not." Therefore, I have no opinion on what Sterling said to his (should be ex) girlfriend. I am merely attempting to let the public in on a few circling issues that seem to be overlooked by the vast majority of the kooks with microphones. Like I always preach, "before we jump onto the boat of the offended, let's take a step back and analyze the issue at hand." Sterling's words clearly offended some. Sterling probably doesn't care, but I can't be for certain on his true feelings, since I don't know the man. What do we, as Americans, need to keep in mind? ALWAYS ALWAYS ALWAYS get the facts of something before making an informed decision. If one does not get the facts, then one should consider themselves as guilty as the person who said or wrote the half-hearted comments in the first place. Thank you for your consideration.
Tiny URL for this post:

Comments
comments