With the NBA trade deadline dwindling down with little to no talk, I think it's time to see what the GMs think about some possible situations they could find their team in. Hopefully we can manage to squeeze a little drama out of this winter…
Rajon Rondo to Houston Rockets
Can I say it would be a complete shame to watch RR go the rest of his career in rebuild mode? What an exceptional athlete that, like the rest of the players averaging over 35 minutes a game, have gotten the injury bug. With an acquisition to the Rockets, this would complete a stellar young team destined for dynasty greatness. This team could be so good, it would beg the question; Miami who?
How It Works:
This one will take some finagling. The Celtics (for some unknown reason) seem hell-bent on getting Rajon out of town. Help me…help you. Let's break this down to a three-team trade between the Rockets, Celtics, and Bobcats.
Houston gets:
Rajon Rondo (BOS)
Brandon Bass (BOS)
Boston gets:
Omar Asik (HOU)
Jeremy Lin (HOU)
Ben Gordon (CHA)
2014 first round pick (CHA)
2014 second round draft pick (HOU)
Charlotte gets:
Kris Humphries (BOS)
Terrence Jones (HOU)
Aaron Brooks (HOU)
Two 2014 second round picks (HOU)
Why It Makes Sense:
Obviously, the Rockets get the best deal. They trade disgruntled Asik, underwhelming Lin, Jones, Brooks, and say goodbye to any second round steals. All this for a window at greatness. Really, this is the prime opportunity to cash out their assets.
The Celtics have a bunch of different avenues they can go here, and that's the perk of this trade; flexibility. The Celtics get to scrap their original roster by taking on three so/so players who could provide some decent talent to this squad in Asik, Lin, and Gordon. BUT if veteran guidance is not what they seek, Gordon is a free-agent this year as Asik and Lin are free agents next year. Clearing over 20 million in cap space to chase (at least one) superstar. Not to mention, a nice 1st round draft pick to replace Rondo.
Charlotte finally releases a giant drain in Ben Gordon and acquires some average assets and three draft picks for decent trade bait. All in all, since Charlotte essentially gave up the least, they receive the least. This move gives Charlotte the cap space clearance to ALSO revamp their team and attempt to usher in a superstar in 2014 and 2015.
Why It Won't Happen:
In short, Boston wants Chandler Parsons for Rondo, Charlotte probably will want more for their first round pick (Jeff Green or Jared Sullinger), and on Houston's side, this could be looked at as one of the most lop-sided trades since the Lakers traded for Pau Gasol. Multiple team trades are always tricky, but could be an answer to each team's respective future/flexibility issues.
Greg Monroe to Oklahoma City Thunder
This one makes the most sense, but probably has the least likeliness of happening due to sheer stubbornness on the Pistons' part. Andre Drummond and Greg Monroe can only last so long together. If you want to re-create the Pistons' bad boy image, you can't have two Ben Wallace's and no Rasheed Wallace.
How It Works:
Detroit gets:
Jeremy Lamb
Perry Jones
Kendrick Perkins
2014 first round draft pick
Oklahoma City gets:
Greg Monroe
Charlie Villanueva
Why It Makes Sense:
Detroit sheds a possible superstar in the making for A LOT of potential. With Kendrick Perkins becoming a free agent in 2015, there is even the possibility to shed a decent player and chase a superstar for Detroit. But that's not what the Pistons should be about. Keeping Perkins could be a nice team option, along with diamonds in the rough Lamb and Jones. Also, this gives Detroit room to draft another player to complete their comeback.
For Oklahoma City, they get a young star in the making for an average, but overpaid player who will want money this off-season. Not to mention Charlie V's huge expiring contract. Since the Thunder already have a deep team and bench, why not just upgrade their squad by using their first round draft pick in motion? This just makes sense.
Why It Won't Happen:
I honestly think Detroit refuses to trade Greg Monroe because they think Monroe and Drummond can work together. Personally, I don't see it. The water is fine now, but they hold a lot of the same qualities and could become a nuisance in the future. If this trade didn't go through, it would be all on Detroit.
Kevin Love to Chicago
Yeah, yeah…we've heard this before. Love (pun intended) loves the T-Wolves, he's not going to leave…blah blah blah. It's all very touching. Now hear this: If the Wolves get a good deal, adios Kevin Love. As it stands, Chicago is (as always) playing pretty decently without Rose. The deal is…Chicago has three first round draft picks coming their way in the next two drafts. They can either cut the cord right now with a few names and save their future, or take their chances in the draft/free agency. Or  both.
How It Works:
Chicago gets:
Kevin Love
 Shabazz Muhammad
Minnesota gets:
Mike Dunleavy
Carlos Boozer
2014 first round pick
2015 first round pick
Why It Makes Sense:
This actually makes sense for both squads. We get it, Minnesota (rightfully so) wants to hold onto Love. BUT, if you could get a future Love AND another player in the draft (essentially a Muhammad re-do), I think that'd be a pretty sweet deal. On top of that, you shed Shabazz Muhammad (who obviously isn't working out) and gain a temporary fix in Carlos Boozer.
For Chicago, it's a no-brainer. They FINALLY get rid of trade rumor king Boozer, shed some unneeded draft picks, and get another superstar in Kevin Love. Should Thibodeau (if anyone can, it's Thibby) turn Muhammad into a scorer worth a starting gig, then that's just an added bonus. This trade actually makes more and more sense the farther down the line I go. And in the end, Kevin Love gets the bigger market he deserves. Now if they could only keep Rose healthy. Too soon?
Why It Won't Happen:
This one is very simple; Chicago is fickle with Carlos Boozer and Minnesota wants to play "it's not you, it's me" when Kevin Love finally wants out. Luol Deng to Dallas
So the Cavs are apparently shopping Deng. Cleveland, we have a solution. Deng could be a nice addition to an "under the radar" Dallas team. Deng is a true small forward that could add nicely to a high-powered scoring team, but at a price.
How It Works:
Dallas gets:
Luol Deng
Cleveland gets:  
Brandan Wright
2014, 2016 second round picks
Shawn Marion
Wayne Ellington
Why It Makes Sense:
This could be a very splendid setup for both teams. Deng has an expiring contract that Dallas could be looking to invest in. Cleveland hasn't been that impressed with his play and could stockpile draft picks to potentially build around Kyrie Irving and company.  Also, Shawn Marion and Wayne Ellington provide a nice little mixture of veteran leadership, youthful potential, and offense. The only issue I see is now Dallas is REALLY tapped out on defense with the departure of Marion. So the question would remain; can Deng, Ellis, and Nowitzki generate enough offense to look past their defensive struggles?
Why It Won't Happen:
This one might not be Cleveland fishing for more for Deng. It might lie on the shoulders of Dallas' unwillingness to part with their defense (Shawn Marion). While this would provide a solid boost for both teams and even flexibility for both teams, Dallas seems quite content to NOT rock the boat with this team, given just how (compared to expectations) well they have done. It seems smart, but unlikely. Even if it didn't work out with Deng, Dallas just ridded themselves of over fifteen million in cap-space, anticipating re-signing Dirk at a lower cost and attempting to get a superstar to come to Dallas for the third season in a row. Meanwhile, Cleveland is running out of chances to get some talent before they lose out on Kyrie, Lebron style. This move could be desperation at its best.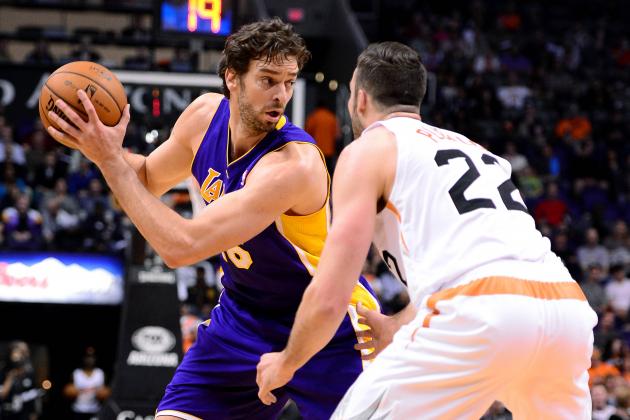 Paul Gasol to Phoenix
The number one reason this could work? So we can STOP talking about Gasol being traded. This one could be very simple, but couldn't be at the same time.
How It Works:
Phoenix gets:
Pau Gasol
Los Angeles gets:
Emeka Okafor
Gerald Green
Why This Makes Sense:
The Lakers want Gasol gone (as they certainly haven't been courting him) and the Suns want him. Getting an expiring contract for a player they have no interest in keeping, plus a possible starter would be a dream for L.A. in this light. In turn, Phoenix would get a jolt in their front court, while they part with a player they wanted to cut and a decent sixth man who is having a stellar (but more of a fluke) year.
Why It Won't Happen:
Same reason why no other Gasol swap has happened. Every time Mitch Kupchak gets even close to wishing him away, he ups and calls the deal quits. Face it, Mitch…if this relationship were any more pathetic, it would be my bid for the next MTV reality show. Just rip it off like a band-aid, already.
All in all, this is what could happen in less than five hours. As it stands, I think we are in for a disappointing trade deadline, yet again.
Tiny URL for this post:

Comments
comments